Commercial offer: Golden Necklace of Gold Coast
String Technologies Unitsky Pty Ltd presents the commercial offer "Golden Necklace of Gold Coast".
Golden Necklace of Gold Coast
The project combines STU high-speed string aerial metro at the altitude of 100 meters and high-rise buildings with the distance 1.5-2 km from each other and passenger station which are located on the roofs.
Buildings can be multi-purposed: residential, office, retail, sports and entertainment, with a usable area of 10-20 thousand sq. meters each. The total effective area of "Golden Necklace of Gold Coast" is 300-400 thousand square meters.
The combination of STU aerial metro with high-rise buildings wouldn't increase the cost of effective space in them, but reduce the cost of metro, because supports, foundations and floors of stations will be combined with a supporting framework, foundations and floors of buildings.
Buildings may be traditional in their architecture and layout and their value and return on investment will not yield to usual high-rise buildings. However, their combination with stations of ecological, safe and affordable public transport, as well as their placement in the most attractive places along the coast and sea areas will make them more desirable to buyers.
STU aerial metro, with its lower cost (is 15-20 times cheaper compared to traditional underground metro), pays off in 3-4 years. With a city length of 40 km a passenger can ride for 30-35 minutes from one end to another. And it is at traffic peak with 20-25 stops! This will be the most high-speed metro in the world.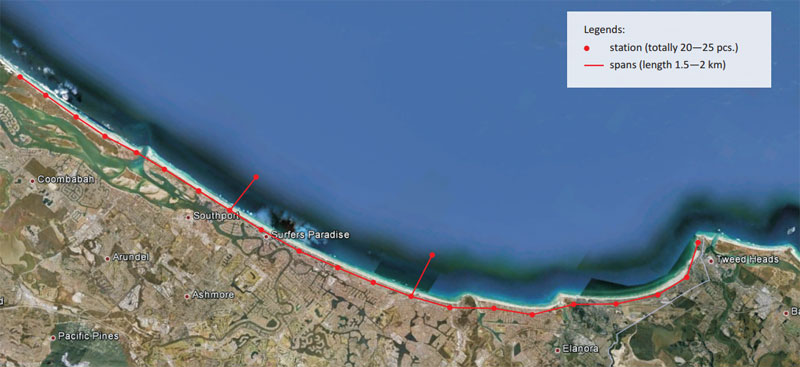 Relevance of Project
The Project offers a complex solution of the most acute problems for the cities and towns. The implementation of the most environmentally friendly and safe transport system, so called "aerial metro" of the "second" and the "third" level, is represented in the Project. The possibilities of the system are not represented at a full volume in order to minimize investment costs without reducing investment attractiveness of the Project.
The urgency of this Project results from existing and growing problems of the cities. The most acute problem is organization of speed, safe, economy-priced and environmentally friendly passenger and freight transportation in urban areas without considerable interference and, moreover, without destroying of existing natural landscapes, buildings and ecosystems.
Existing city transport is not secure for the environment. Besides, there are plenty of injuries and deaths in constantly occurring accidents, due to the fact that pedestrian and traffic flows are on the same level, i.e. on the terrain. In most cases even underground is not able to solve city problems, not only because of extremely high capital expenses for underground constructions (more than 100 mln. AUD/km), but also due to the fact that, for example, in the areas of flooding such transport system would be completely destroyed and would not be a subject to reconstruction. Moreover, rapid flooding of underground utilities may cause blocking of trains and mass human losses.
String Transport Yunitskiy (STU) is a universal and integrated transport system capable for carrying passengers and all types of goods in urban environments. STU uniqueness is that its track structure is raised high above the ground, has a very low consumption of materials (50 kg/m for double-track trail structure), high speed of construction and low cost (from 1 million AUD/km). No need for costly excavation mounds, pits, culverts, bridges and overpasses, and it can go without any influence over the city's rivers, lakes, parks, streets, over low-rise buildings.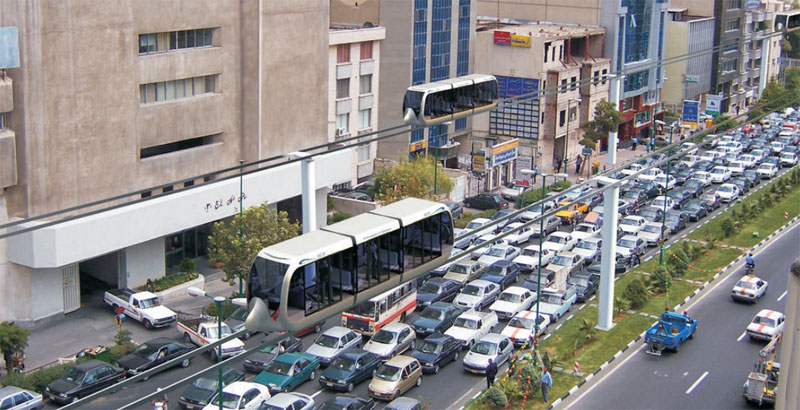 Concept of Project
High-rise buildings-stations are appropriate to place within walking distance, in increments of 1500-2000 m.
Passenger station of suspended city transport is located at the top of a high-rise building. It is also the type of rail city transport. Suspended unibus, a special rolling stock, which consists of one to three and more sections is hanged to the bottom of one or two string-rails. The track structure between two adjacent buildings is implemented as a single span with no intermediate supports.
Mounted passenger station of public transport may be located at the bottom of each building, if necessary. Mounted transport type located at a height of 5-10 meters, with spans of 30-50 meters, is also a kind of off-street rail public transport. Special rolling stock from one to three or more sections (mounted unibus) with a capacity of 25-75 passengers and more is mounted on the top of two string rails.
Mounted horizontal track structure between adjacent station buildings is characterized with a high level of strength and stability. It meets the requirements for the construction of railroad bridges and trestles. The slope of a track may vary from 15% to 30% and even more (depending on the type of a mounted unibus and a track structure). Minimum radius of a track structure at the stations is 20 m. Taking into account an estimated unibus speed of 100 km/h, minimum vertical and horizontal curve radius of a track structure on the spans and on the supports will be not less than 1000 m.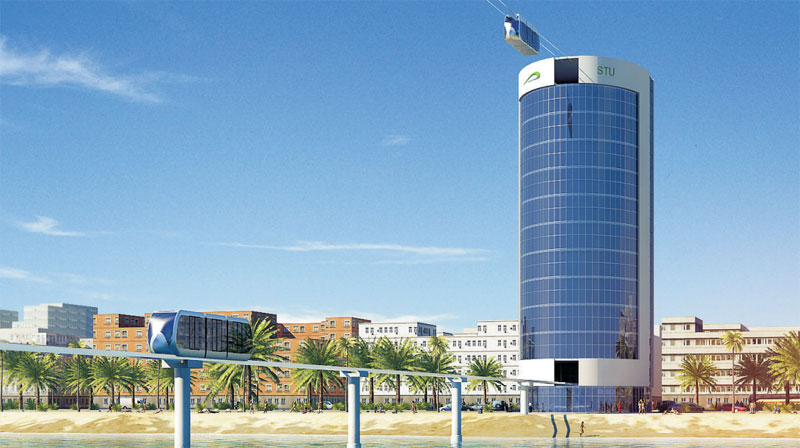 For more details - see the attached commercial offer "Aerial Metro of Gold Coast in Australia".