SkyWay string bridge
SkyWay Technologies Co. proposes an innovative solution to the design and construction of motor-roads, railways and pedestrian bridges, overpasses, flyovers and other extended transport structures with features that fully comply with the requirements of existing international standards. For example, string bridges meet all the provisions of the Russian Federation (Building Regulations and Rules 2.05.03-84 "Bridges and Pipes", II-23-81 "Steel Structures"), the Project of European Standards (ENV) and the new US Bridge Standards (AASHTO).
SkyWay technology allows to exclude expansion joints throughout the structures, which increases their evenness, strength and durability, reduces the consumption of materials by several times, thus decreasing the cost of structures.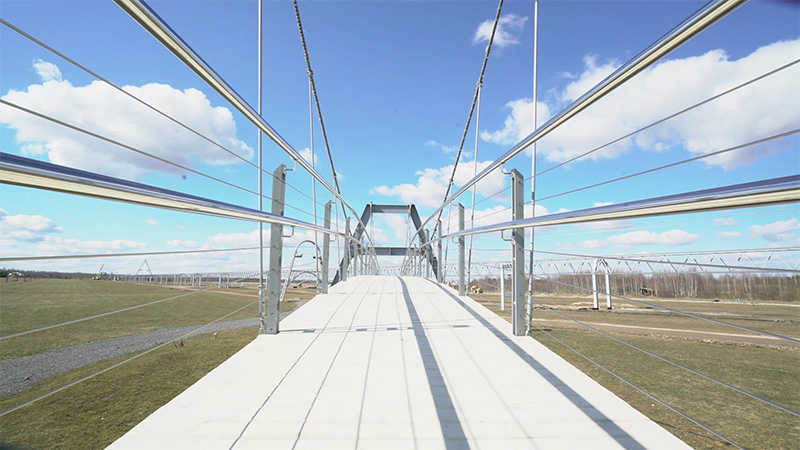 "Exhibition sample of string overpass" is the mean technical name of the string bridge, well known to all guests of EcoFest 2018. Today we will tell more about this structure to those who missed that event. This is a transport system designed to demonstrate alternative applications of string communication systems and tests with components of a string overpass using a coiled tubing pipe as the main carrier element. It is located not far from the guest house onsite of SkyWay EcoTechnoPark as a span structure made of metal parts with two anchor points at the edges and two intermediate supports. The span of intermediate supports is 10/30/10 m.
In addition to light weight and openwork of the structure, string bridges are almost the same in the exterior as the traditional ones, since innovative solutions are hidden inside the structure. We offer to look inside the string bridge and get comments from Alexander Migel, Leading Design Engineer, Design Bureau "Transport Overpass", SkyWay Technologies Co.