Presentation of the scientific edition by Anatoly Yunitskiy "String Transport Systems: on Earth and in Space"
Presentation of the monograph "String Transport Systems: on Earth and in Space" was held in Minsk on April 16. The author — General Designer of SkyWay Technologies Co. Anatoly Yunitskiy sets forth in it the fundamental laws and principles on which the concept of string transport is based. The book has already experienced several reprints, but its main ideas have not changed. On the contrary, the augmented version of the book demonstrates the successful practice of applying the postulates outlined in it.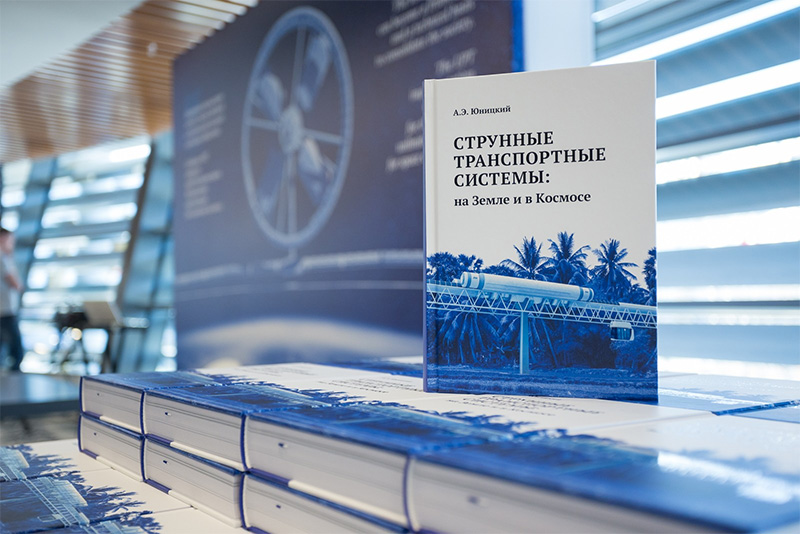 The review of the book was published (in Russian) by SkyWay's permanent information partner, "Komsomolskaya Pravda". It emphasizes the relevance of space issues for modern science and technology:
"String Transport Systems: on Earth and in Space" is Anatoly Yunitskiy's manifesto. In the monograph, he sets out in the most detailed way the basics of his theory and talks about the science behind SkyWay transport and the concept of the General Planetary Vehicle. The monograph was published for the first time back in 1995, and since then the new editions were added only with fresh details about the implementation of the ideas contained in it. The theory is tested and confirmed by practice: string tracks have already been built and tested, the range of transport modules is constantly growing — perhaps, the testing of Yunitskiy's space concept is not far off. Attention to such developments is also growing. For example, they announced construction of a space elevator in Japan, and several companies are working on reusable rockets in the United States. In general, space is back in fashion."
Presentation of the new edition of the monograph was held in the anniversary of its author — Anatoly Yunitskiy had his seventieth birthday old April 16. Dr. Yunitskiy met his anniversary with his colleagues and like-minded people: more than a hundred people came to congratulate the hero of the day on this event. The guests included the management of SkyWay investment funds, the top management of the SkyWay Technologies Co., friends and associates of the engineer. Such an accumulation of professionals and enthusiasts of string transport in one place inevitably led to the arrangement of a field meeting — topical issues and plans for the near future were discussed during the cocktail party.