People can now find out about SkyWay while flying Etihad Airways airplanes
The latest issue of Atlas, official magazine of Etihad Airways, contains material on SkyWay development in the United Arab Emirates (p. 80):
"Despite their near ubiquitous presence for decades in science fiction, the real-life sight in cities of silent, driver-less, overhead transport pods (what we used to call monorails) is still a rare one. But this flight of fantasy is about to become reality in that most futuristic of cities, Dubai.
Dubai Sky Pods were unveiled by the city's Road and Transport Authority (RTA) at the World Government Summit in February as part of a project to develop a sleek, fast and energy-efficient overpass system for a quick and enjoyable transit around Dubai.
Developed alongside Skyway Technologies, an engineering company based in Belarus, the rolling stock comes in two models: the two-seater Unibike and the a six-seater Unicar. Each is driverless, electric and capable of speeds of up to 150km/h. At the summit — hosted by Dubai — the RTA presented the project to Sheikh Mohammed bin Rashid Al Maktoum, Vice-President and Prime Minister of the UAE, who learned that the system occupies considerably less space than more conventional overpass developments, and also uses five times less power than electric vehicles."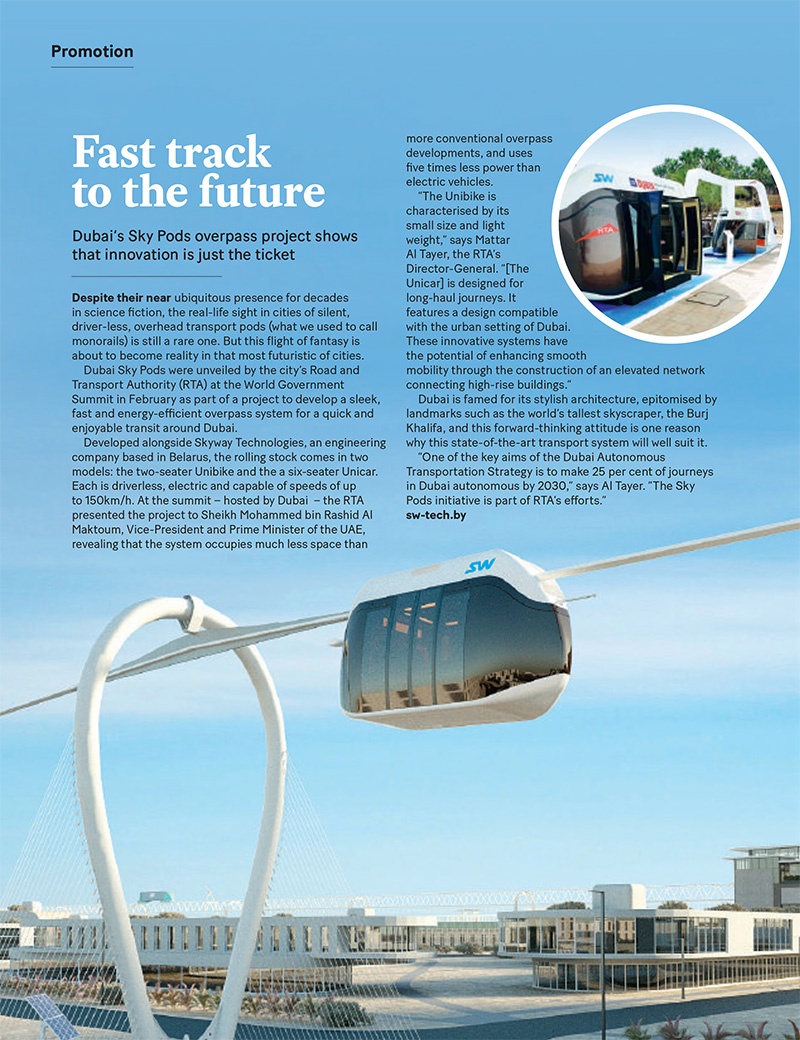 Etihad Airways is a national airline company of the United Arab Emirates with its head office in Abu Dhabi. The airline operates more than 1,000 flights per week to over 120 passenger and cargo destinations in the Middle East, Africa, Europe, Asia, Australia and the Americas, with a fleet of 117 Airbus and Boeing aircraft.