8 October 2015
EcoTechnoPark object: intermediate support for single-track suspended way
Intermediate supports for a single-track suspended overpass are designed to fix the string-rail track structure (for movement of suspended unibuses) only in vertical direction. All horizontal forces arising in the overpass - prestressing, thermal forces, brake and other forces - are taken by neighbouring anchor supports. Due to continuous character of span structure (it has no temperature joints), the load-bearing capacity of supports, other factors being equal, is increased by almost 8 times. The support is not cantilevered - its top is fixed to the track. In addition, the light-weight track structure and light rolling stock give such vertical load onto support, which is by times less compared to traditional transport overpasses. Therefore, material intensity of intermediate supports and their cost are reduced compared to, for example, traditional transport overpasses by times, and sometimes - by many times. One can make sure of that at the test site of SkyWay first generation in the town of Ozyory, Moscow region (2001-2009) - the third support from the beginning with the height of 12 m had a steel tube diameter of only 30 cm. The support can be made of reinforced concrete, steel, aluminum alloys, special composites, but a steel-reinforced concrete support will be the most cost-effective, durable and producible.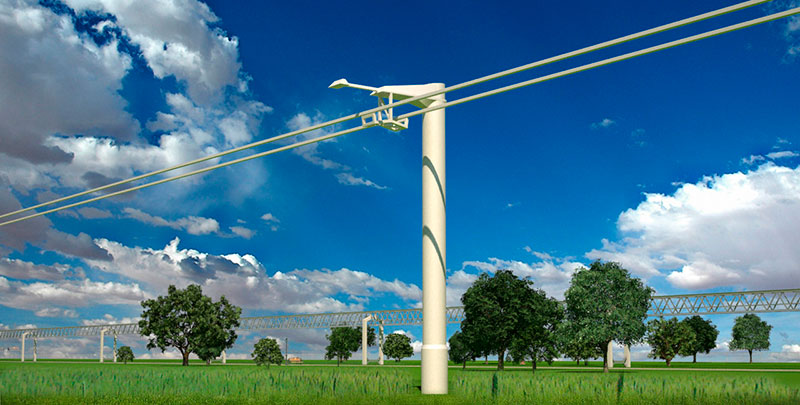 In traditional transport overpasses, especially on high-speed railways, supports are extremely heavy and expensive, as they experience high vertical and horizontal forces and operate under unfavourable conditions from the point of view of building mechanics.
Intermediate supports SkyWay are light-weight, solid and cost-effective. Let us consider high-speed railway, built by the Japanese in Taiwan about 10 years ago, as a prototype for comparison. Overpass supports of this road experience such enormous loads that under each support in the ground, there are installed four bored piles with diameter of 2 m (!) and the length of up to 60 m (!). The mass of pile foundation alone for this support can reach 1,800 tons (for comparison: the mass of SkyWay intermediate support, together with foundation, does not exceed 15 tons). Therefore, an ordinary support of such a road, built under "advanced Japanese technologies" cannot cost less than 1 mln USD.