EcoTechnoPark object: complex for dimensional welding of track structure elements
The complex is designed for dimensional welding of SkyWay overpass elements, mainly - pre-stressed string truss.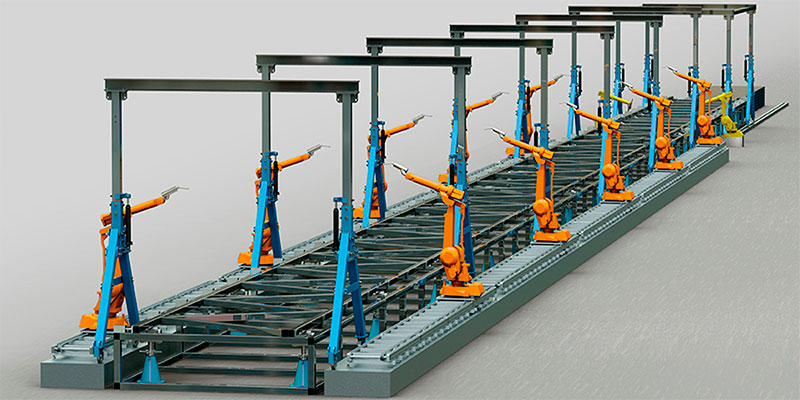 The complex consists of the preparation area, welding zone for lower and upper parts of string-rail truss bearing structure, and welding section for the entire structure. Every section is equipped with modern auxiliary devices for automated manufacture of track structure in the workshop, particularly, with laser metal cutting. Welding is carried out in a high-accuracy rotating (around its fore-and-aft axis) welding jig, specially created for this purpose.
Dimensions: L × B × H = 60 × 6 × 4 m.
Exclusive equipment required for implementation of EcoTechnoPark Project. In the future, it will save billions of USD for humanity (even trillions, at large-scale use) due to provision of highly efficient straightline production of unique light-weight and cost-effective bearing structure for steel-reinforced concrete string-rail overpasses. For example, SkyWay overpass is more cost-effective than that of high-speed railways by at least 50 mln USD for the length of 1 km.
Each span of SkyWay overpass will be manufactured in the workshop with such a degree of high precision, which is unachievable for modern equipment. For example, construction precision for manufacture of welded string-rail truss at the span of 50 m will make ±2 mm both in longitudinal and transverse directions. Otherwise, the track structure will not ensure comfortable movement for high-speed rail automobiles - unibuses - at the speed of 450...500 km/h, as track unevenness at the span (considering static and dynamic sags of span structure under its own weight and the rolling stock weight) at such travelling speeds shall not exceed ±7 mm.