EcoTechnoPark object: communication system for high-speed transport complex
The communication system is developed for all types of SkyWay complexes. It is, in fact, an intellectual system designed for timely and reliable provision of all users with necessary information.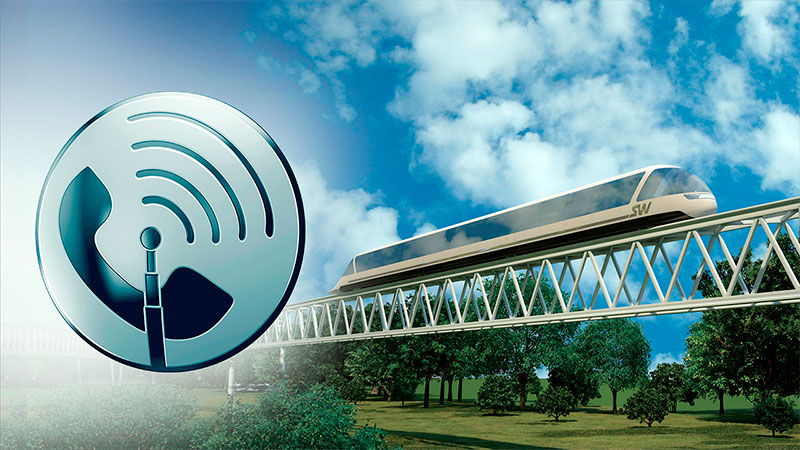 From the point of view of its architecture, the system looks like a network of wireless base stations combined with each other by means of fibre optic data-transmission lines. The communication system is connected to the worldwide network Internet and to SkyWay Safety and Control System.
At present, there is created a range of variants for wireless communication, the task of which is to provide uninterrupted information exchange between base stations and high-speed unibuses and unicars. This allows to significantly reduce costs for network construction and operation as compared to other technologies, providing similar motion speed for receiving equipment (up to 500 km/h). In addition, there will be ensured high speeds of data transmission (up to 20 Mbit/s), as well as envisaged backup dispatching and communication systems. These systems provide data streaming with guaranteed speeds and batch transmission. Introduction of a backup system with a high level of own failure reliability will allow to minimize any risk of communication failure with a dispatching station.
The designed communication system SkyWay will allow to provide reliable data transmission channels for all types of SkyWay complexes, with considerably less costs for its deployment and operation as compared to mobile and wireless communication systems. This solution will provide passengers of all types of SkyWay transport with high-speed Internet, mobile telephone communication and necessary information. Apart from that, due to a powerful basic communication network there appears an opportunity to sell traffic through own communication system to third persons. Thus, SkyWay Group will be able to provide services for forming super-power information flows in the future and, consequently, to earn a significant profit, compared to the service of passenger and cargo transportation.
Arrangement of communication system components inside the protected rail-string track structure allows to apply less expensive optical fibre, but one of a higher quality with a smaller protection class. Obviously, this fact will influence the transport complex economic efficiency in a very positive way.
A high degree of failure reliability and uninterrupted operation, back-up system and multiple safety factor as to its carrying capacity will eventually allow for a network of SkyWay overpass tracks to replace other communication systems: telephone, Internet and others.
It may be said that when heading for any place in the world, SkyWay track makes available all types of communication:
energy service (delivery of electric and other types of energy to consumers),
information service (transmission of information data of any kind),
physical service (people and cargo transportation),
modifying and transforming a human's life and taking it to a new level of quality as to safety, affordability, comfort and environmental friendliness.