EcoTechnoPark object: direct current traction substation for high-speed transport complex
A traction substation is designed for high-speed transport complex SkyWay energy supply, which requires electric power of about 1,000 kW within several minutes in order to accelerate a multiseater unibus (capacity - up to 30 passengers) to the speed of 500 km/h. Apart from a unibus motor-in-wheel electric drive, other systems of safety and control, ventilation, air conditioning, etc. are powered from the catenary system.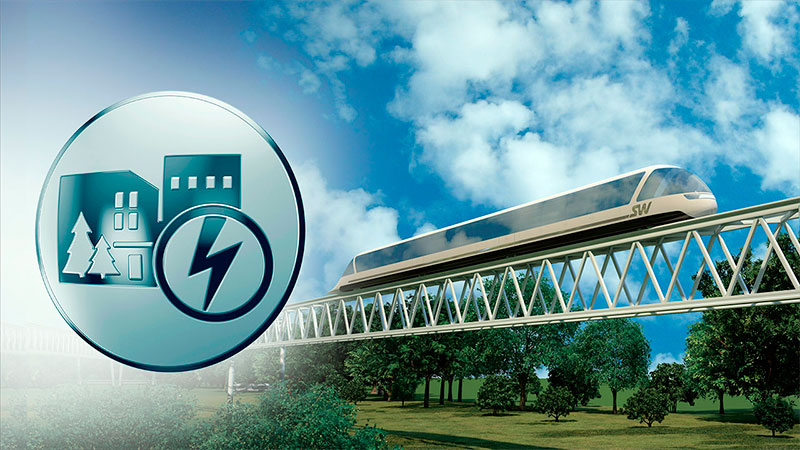 A traction substation consists of energy storage units, powered from the AC network available. The power of these station energy storage units, together with accumulators installed on the unibus board, is able to provide the predetermined modes for acceleration, motion at a cruise speed (up to 500 km/h) and regenerative braking at a section of minimal length. This allows to reduce the length of a high-speed test section from 30 km (by analogy with test sections of other high-speed transport systems) to 15 km, saving over 50 mln USD just at the construction stage.
Recharging of energy storage units is carried out at unibus regenerative braking, as well.
Traction substation control envisages a possibility of control and remote transmission of all main state parameters for units of traction substation via communication channels.
A traction substation provides short-circuit and overload protection (including potential protection at remote ground connections in direct current network).
A traction substation allows to reduce the impact of traction load shocks to the feeding network and to maximally use the regenerative braking energy of high-speed rail automobiles - unibuses and unicars.
In this case, cost reduction for electric energy will make at least 30% (as compared to conventional energy supply, including at high-speed railways), that is - tens of thousands kilowatt of electric capacities at an average track with the length of several hundred kilometres.
Traction station SkyWay, developed by design engineers of our company, allows to increase the distance between high-voltage substations at high-speed tracks by several times, which decreases their energy supply by 400-500 thousand USD/km just at the construction stage.
Innovative approaches to traction substation SkyWay design engineering allow to save up to 500,000 USD/km (or up to 500 bln USD per each million km of route) when constructing high-speed tracks SkyWay.