27 December 2015
EcoTechnoPark object: cargo complex anchor support
Anchor supports are designed for fixing prestressing strands and other string components of SkyWay rail-string structures, truss and other linear components of the uncut overpass (that is, continuous, without temperature joints).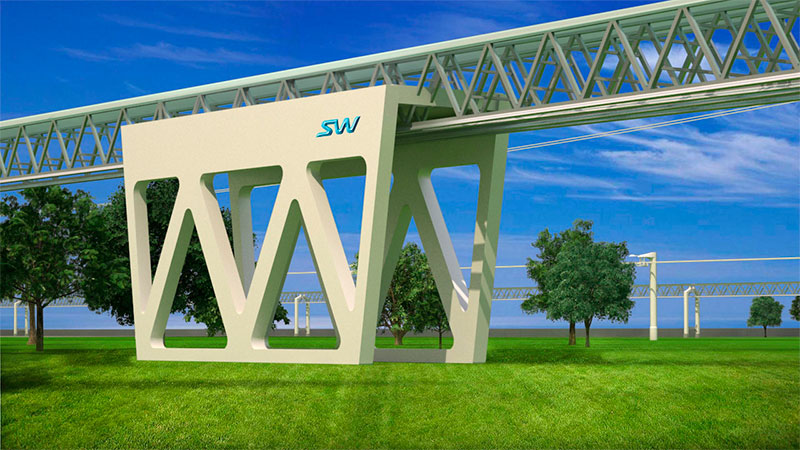 The cargo overpass diagram for SkyWay transport system implies that anchor supports bear all longitudinal loads from a superstructure and the rolling stock. As a result, anchor supports are rather complicated engineering structures, designed for significant loads.
SkyWay cargo complex anchor supports can have a double-purpose design - they can be combined with the load-bearing frame of different building structures - loading and unloading terminals, manufacturing workshops, maintenance stations, etc. These can be, for example, depots and premises for processing equipment, as well as reversal track sections and other structures, providing operability for transport and infrastructure complex SkyWay on the whole.
An anchor support allows to make superstructures more lightweight and delicate. An ordinary overpass of a beam type mainly bears its weight, its main load making 90% and more (the bridge weight in relation to load). However, in SkyWay transport system, the superstructure weight makes 20-30% and the rolling stock weight is over 70%. This fact was also proved at the test site for SkyWay first generation in the town of Ozyory, Moscow region (2001-2009) - the track structure with the weight of 120 kg/m was able to bear the useful load of up to 15 ton mass (modified truck ZIL-131). That means that the track structure (superstructure) weight at the span of, for example, 36 m made only 4,320 kg (22% of total load), and the rolling stock weight - 15,000 kg (78%).
The most load-bearing components of SkyWay rail-string overpass are specifically end anchor supports. However, they are designed as lightweight, solid and inexpensive. Considering that SkyWay anchor supports have no analogues in conventional transport overpasses, let us take an ordinary (one of thousand) overpass support of high-speed railway, built by the Japanese in Taiwan about 10 years ago, as a prototype for comparison. Supports of this overpass endure such enormous loads that under each support in the ground, there are installed four bored and cast-in-place piles with diameter of 2 m (!) and length of up to 60 m (!). The weight of pile foundation alone for such an ordinary support can reach 1,800 tons. For reference: the weight of reinforced concrete foundation for an end anchor support in cargo SkyWay does not exceed 100 tons. Therefore, an ordinary support of the track, built under "advanced Japanese technologies" cannot cost less than 1 million USD. Here, it is necessary to take into consideration the fact that any SkyWay track will have only 2 end anchor supports, while the number of supports for the overpass built under Japanese technologies (where supports are installed in every 35 m), for a cargo track with the length of, for example, 350 km, would be 10,000 pieces.
The specified advantages allow to reduce the cargo overpass price (superstructures and supports) by at least twofold - just due to uncut nature of these superstructures. Therefore, anchor supports make it possible to cut the cargo complex cost by 2-3 mln USD/km and more.