EcoTechnoPark object: loading and unloading terminal No.1 for cargo SkyWay
SkyWay loading and unloading terminal No.1 (hereinafter - LUT-1) is designed for accumulation and storage of cargo unloaded from the main vehicle - train-unicar (product pipeline) with its further loading to single unicars bodies. These unicars then transfer cargo to loading/unloading terminal No.2, located on the other side of the track. It will allow to close the transport and logistics chain - that is, to load, transport, unload, and to return this cargo. In its turn, this will allow to demonstrate the transportation volume of millions of tons of cargo per year, having only several hundred tons of cargo available.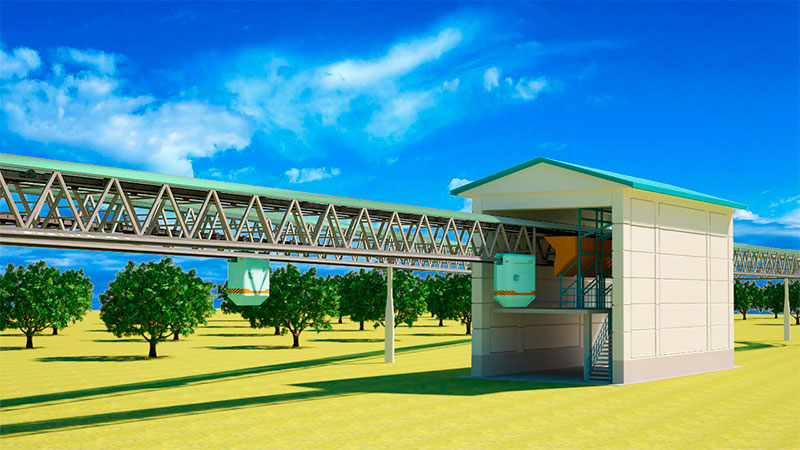 LUT-1 consists of a receiving and storage device and mechanisms for bulk cargo unloading and transshipment. Also, it includes metallic structures, casings and protective elements.
Specifications:
the planned capacity of the sample demonstrated in EcoTechnoPark is up to 25 mln tons per year;
bunker capacity - 16 cu. m;
consumed power - 12 kW.
SkyWay LUT-1 surpasses traditional cargo terminal constructions in all parameters, which can be seen by the comparative example with a railway car dumper.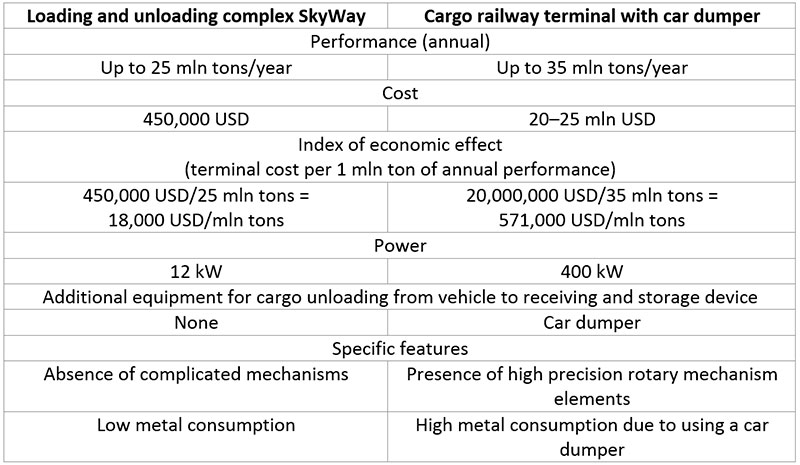 A conventional terminal equipped with a car dumper has a comparatively low performance and a complicated and heavy car dumper construction. This unloading scheme is rather energy consuming as a significant amount of energy is spent both on material unloading and car and dumper overturn. Due to the complicated car dumper structure, there is required constant mechanism control and maintenance while in operation, which leads to considerable operating expenses. In addition, the majority of systems available at the world market require a car dumper for placing cars at the terminal.
In SkyWay LUT-1, bulk material is transferred to the bunker by means of overturning a continuous product pipeline body on the move, without stopping and without using auxiliary mechanisms due to the special track structure design. LUT-1 excludes complicated mechanisms from the cycle. There has been optimized the cargo flow, applied standardized products in addition to wide use of gravity material flow scheme. All these factors lead to significant reduction of the system cost and energy consumption, as well as decrease in expenses for equipment operation with increase in its life cycle.
LUT-1 will make it possible to save at least 20 mln dollars in each targeted project as compared to the cargo railway.
With change of the required cargo transportation volume, the terminal can be easily scaled with the proportional change in cost.