SkyWay booth has become one of the most popular at InnoTrans 2016
SkyWay rolling stock presented at InnoTrans 2016 in Berlin aroused great interest among professionals in the field of transport and ordinary visitors of the exhibition. The first two days of the event were marked for the company by a number of important meetings, at which representatives of several large companies operating in the market of transport services expressed their desire to cooperate.
According to Deputy General Director for SkyWay development Victor Baburin, interest was shown by the representatives of Indian railways, delegations from Qatar, Germany, Philippines and other countries. Member of the management Board of the company SkyWay Capital Alexey Sukhodoev noted that stating its readiness to suspend the project for laying a subway, which was already launched in the Philippines, members of the delegation from this country commented on their visit to the exhibition as follows: "We spent two days looking for a solution that we have found right on your display stand. Thus, we have fulfilled our mission and can go home, where we shall be impatiently looking forward to your proposal on the targeted project".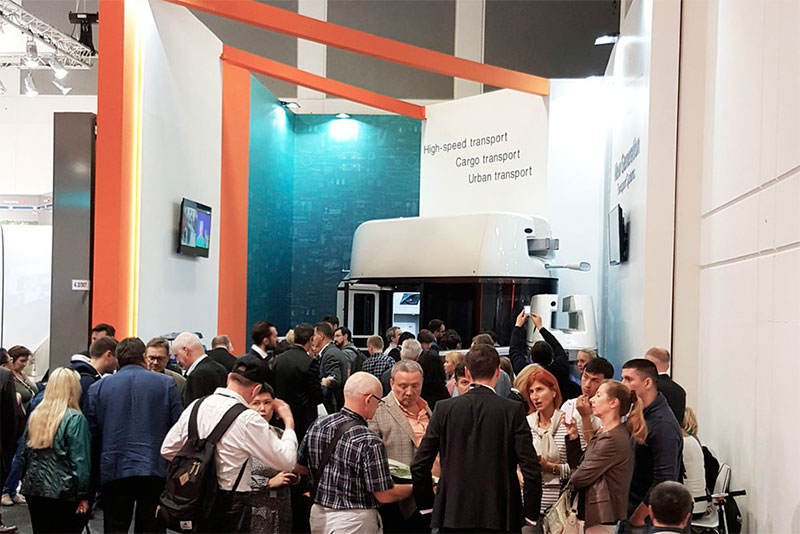 The third day of the exhibition, which opened the doors of pavilions not only for representatives of business and state structures, but for everyone willing, was marked for SkyWay by a real triumph. The number of visitors increased throughout the whole time from the very first hours of exhibiting, while the adjacent stands displaying the development of such industrial giants as Hitachi, Kawasaki, Siemens and others were in demand by the public to a much lesser extent. The representatives of the administration of Samara and the Deputy Governor of the Chelyabinsk region were among the visitors to the SkyWay booth this afternoon. They have discussed with SkyWay team members the possibility of implementing specific targeted projects in their regions.
Innovative transport solutions at the SkyWay booth are presented in the form of five exhibits, each of which is unique. The tour on SkyWay booth is held by the chief designer of the SkyWay rolling stock Andrei Zaitsev. See what struck the imagination of experts around the world in the following video report: