Lithuanian media portal about SkyWay transport
The Lithuanian information portal www.technologijij.lt focused on high technologies has posted an article about SkyWay. The published material details the main aspects of transport and infrastructure innovation, demonstrates the current model range of string transport systems, and also describes the SkyWorld program — a number of projects in the fields of organic farming, eco-house building, biotechnology and eco-friendly power generation.
"A few years ago it was just an idea that few people had heard about, but last year thousands of interested people could already appreciate the advantages of the new transport at EcoTechnoPark near Minsk. This innovative EcoTechnoPark is engaged in testing, certification, demonstration and development of new generation transport technologies and their infrastructure complexes," the author notes.
It is noteworthy that it was Lithuania that was initially considered by SkyWay General designer Anatoly Yunitskiy as a country for building EcoTechnoPark in 2014. By agreement with the local authorities, Anatoly Yunitskiy's Lithuanian company paid a million litai (Lithuanian currency) for 30 hectares of land in the free economic zone of Siauliai for the construction of a test site.
However, the plans did not come true: in the same year, the Lithuanian prosecutor's office initiated a pre-trial investigation against Yunitskiy on suspicion of illegal financial activities. The formal reason for this was the statement of the Central Bank that the activities of the Belarusian engineer's companies are fraudulent. Lithuanian special services added fuel to the fire, claiming suspicious that Yunitskiy was planning to build a testing ground in close proximity to the NATO air base.
As a result of pressure from the Lithuanian authorities and the media, the land in Siauliai was taken away, all bank accounts and property of the company (about 1 million euros) were arrested and the inventor had to leave the country together with his family. Even an open letter addressed to the President of Lithuania and filing of a petition in support of the project did not help.
The investigation that lasted about 3 years, have ended predictably in nothing: in 2017, the Vilnius district prosecutor's office adopted a resolution to terminate it, officially recognizing that no data confirming the initial suspicions of bad faith actions by Yunitskiy and his partners in Lithuania have not been collected during the investigation. Frozen financial assets and other property of the companies were returned to their owner.
The fact that a large Lithuanian specialized portal has posted a lengthy and detailed article about SkyWay on its own initiative, written in a positive way, may indicate a change in Lithuanian policy towards Anatoly Yunitskiy and his team. It seems that Lithuanian professionals (and at the same time the media) have finally appreciated the enormous potential that SkyWay carries in itself. This is not surprising — the string transport continues its triumphant march along the most powerful investment platform — the United Arab Emirates. They are already talking about it all over the world, they will soon speak even more, and it would be short-sighted to ignore the "Sky Way" on the part of the Lithuania, which seems to have begun to understand where the promising trends are coming from.
We offer below the full text of the original article in the English translation.

Transport of the future from Eastern Europe came to the UAE. It was tested by thousands of passengers. Solving, but not creating problems is SkyWay's motto
Safe, eco-friendly, low-cost, fast, easy to integrate. All this can be said about the innovative transport, which transits passengers along string rails located high above the ground.
A few years ago it was just an idea that few people had heard about, but last year thousands of interested people could already appreciate the advantages of the new transport at EcoTechnoPark near Minsk. This innovative EcoTechnoPark is engaged in testing, certification, demonstration and development of new generation transport technologies and their infrastructure complexes.
This is SkyWay, an elevated rail system. The movement is arranged on enclosed rails with steel string inserted in them. That is why it is called string transport. This system is raised high above the ground with the help of supports. SkyWay and all related systems are a trademark of SkyWay Transport Technology.
This project is intended to solve the transportation and environmental problems of our time. If passenger and cargo traffic is located above the ground, city streets and roads will be relieved of the ever-increasing stream of cars and smog, and the nature — from millions of tons of concrete, all-round pollution and noise. Landscape ecology will be saved, and people and animals will finally be able to move safely.
Modern roads are built on the surface of the earth, where the main part of the planet's biosphere is located: fertile soil, wildlife, vegetation and everything that is the result of human activity. According to statistics, most accidents happen on the roads. Every year about one and a half million people die in road accidents, and even more are injured. On average, wars, acts of terrorism, technological and natural disasters claim about 500,000 lives a year. And this is several times less than the loss on the roads.
Paradoxically, of all the transport, a person feels safer in a car, which is the main killer. And while transport safety experts around the world are looking for a way to reduce the number of traffic accidents, no effective solution has been found yet. And the reason is simple — conventional roads will always remain dangerous because of their technical and technological features that have not changed over the years.
Elevation of the roadbed above the ground will prevent vehicles from colliding with pedestrians, animals, cars, trains and other vehicles. At altitude, you may not be afraid of ice and snow accumulation, river floods, asphalt pits and road blockages, fog, rain, earthquakes and tsunamis.
String technologies — new ideas that have come true
Attempts to introduce electric vehicles were made as early as in late 19th century. However, the idea did not strike root because the roads of the world were conquered by cars with an internal combustion engine. And now the rapidly deteriorating technological and ecological situation forces us to look for an alternative. This alternative can be SkyWay.
This is an unprecedented 21st century project opening a new page for the history of mankind. As the Internet once revolutionized the virtual world, SkyWay will radically change the quality of life in the real world.
The new is the long forgotten old. SkyWay transport was developed by combining technological innovations with proven engineering solutions. Pre-stressed strings have already been used in skyscrapers and bridges, as well as rails, electric motors, wheel motors and other technologies.
Current know-how in the field of unique string technologies surpass everything that has been done so far in this trend. They are based on such criteria as safety, speed of movement, low expenses for construction and operation, environmental friendliness, wide range of application. This safest, most efficient and reliable transport system that ever existed was developed using advanced techniques and lessons accumulated from the mistakes of predecessors.
The main elements of this ground transportation system are continuous high-strength string rails and vehicles with electric drive. Rails for strings are fixed on poles installed at a certain distance from each other. Cargo and passenger transport complexes can have single and double tracks; they can use flexible, semi-rigid and rigid overpass structures.
These vehicles have specific aerodynamic properties and automated control. They are environmentally friendly, economical, have a comprehensive system of protection to ensure traffic safety. The mission of SkyWay is to introduce high-quality "green" technologies in the transport, infrastructure and power generating sectors.
Over the past three years, SkyWay transport technologies have been highly appraised at 18 major International exhibitions.
Application and benefits
SkyWay transport can be used not only in cities, but also in forests, mountains, seaports, swamps, deserts, in the frosty North or in other remote areas. String transport technologies are adapted not only to cover distances between continents, to transport passengers and goods under various conditions, but also to provide a door-to-door service. And the strings are not only a tool for traffic. They can transmit electricity and internet. Thus, a new generation of transport, information, energy, communication and even social networks is being developed.
SkyWay transport is easily integrated into urban public, intercity and international passenger transport systems. For example, SkyWay cargo routes can successfully replace expensive pipelines.
Compared to other modes of transport, the cost of building SkyWay transport complexes is significantly lower, as it requires ten times less construction materials and land; it does not require dams and asphalt. Low operating costs and energy expenses will lead to increased mobility of passengers and goods saving time and reducing transport costs. SkyWay also protects the Earth's ecosystems, significantly decreases pollution, ensures comfort and safety of travelling, saves materials, funds, natural and human resources.
SkyWay — from lightweight to high-speed
SkyWay transport system distinguishes three main types of transport: urban, speedy and cargo ones. The weight range of these carriages is from ultralight to very heavy, the speed limits are from 80 km/h to 500 km/h. The transport is intended to provide local, regional and interregional communications. Various modifications are possible depending on the climatic, landscape and other conditions under which it will be used.
Currently, professionals SkyWay vehicle design and manufacturing company have already developed and manufactured 9 different transport models for various purposes. In total, there are seven passenger carriages and two cargo electric vehicles on the market, ready for serial production and commissioning. Four of them are already certified. Soon, the fleet of cargo and passenger models will be supplemented with new models that are currently being developed by the Company's engineers.
The basic features of urban transport: speed — up to 150 km/h, capacity — from 7 to 168 passengers, maximum gradient of the track structure — up to 45%, transportation distance — up to 200 km, throughput performance — up to 25 thousand passengers in one direction per hour.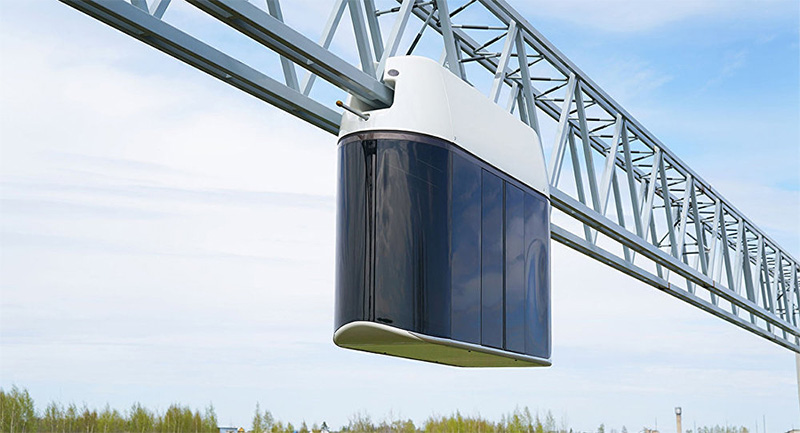 Unibus
The most versatile model of urban transport is Unibus. By the number of accomodated passengers, these buses belong to the major (7—28 passengers) and average (3—14 passengers) classes. Two models of these carriages — 14-passenger monorail unibus U4-210 and double-rail U4-220-T2 for 48 people — are already certified.
Unibike is a lightweight SkyWay transport model. A vehicle for recreation, tourism and sports. It is equipped with a bicycle generator, and its pedals can be used by passengers. While exercising, a passenger creates additional power and, accordingly, saves on driving. Unibike U4-621 (as it is called) is already certified and can be safely controlled by people.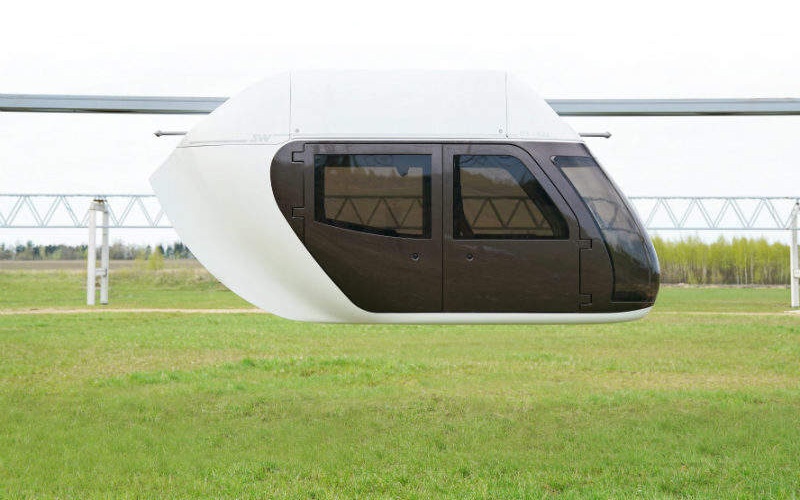 Unibike
Unicar is something in between of a major and small classes. A monorail of medium load capacity is provided for it. Currently U4-430-T3 for 18 seats is certified. The Company has also produced U4-431-01 designed specifically for tropical conditions, which will soon be shown in the United Arab Emirates. The maximum operating temperature of this model is +60 °C, while the temperature inside the cabin is maintained at +20—23 °C. Data backup and many other important improvements have been implemented in it.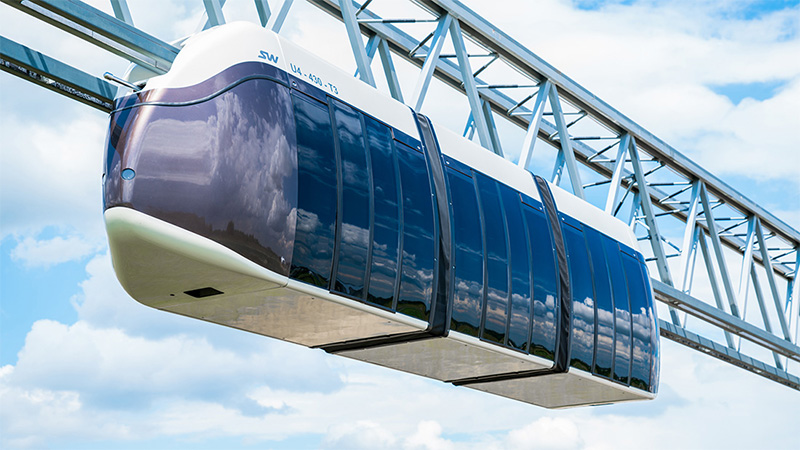 Unicar
Uniwind is an ultra lightweight electric vehicle of SkyWay lineup with extremely wide possibilities for application. This is a monorail, the lightest and low-cost SkyWay model; the structure of the track for it is the simplest. It is designed for areas with poor transport infrastructure, without bridges and roads. Uniwind is developed according to the principle of replaceable modules and can be personalized, easily acquired and adapted for specific needs. Model U4-651 is already in operation.
High-speed Unibus U4-362 was first presented at the largest railway transport exhibition InnoTrans-2018 in Berlin. Technical features of this unique type of the bus are: speed — up to 500 km/h, drag coefficient — Cx = 0.06, power consumption at 100 km/h speed — only 0.1 kg of equivalent fuel per passenger per 100 kilometers. Throughput capacity — above 500,000 passengers in one direction, maximum gradient of the track structure is up to 20%.
High-speed Unibus
SkyWay cargo transportation is intended for haulage of a wide range of cargoes: bulk (iron ore, building materials, coal, etc.), liquid (oil, water, etc.), special (liquefied gas, radioactive and explosive materials, etc.). Containers are equipped with euro pallets. Currently, one of the first electric rail trucks U4-131 (unitruck) is certified. It is capable to reach speeds up to 150 km/h and transport more than 200 million tons of cargo per year. The Company is already in the process of manufacturing vehicles for trestle cargo transportation (up to 25 tons of cargo at a time) and unicont — freight haulage vehicles that will lift cargo up to 35 tons in compliance with ISO standards for containers.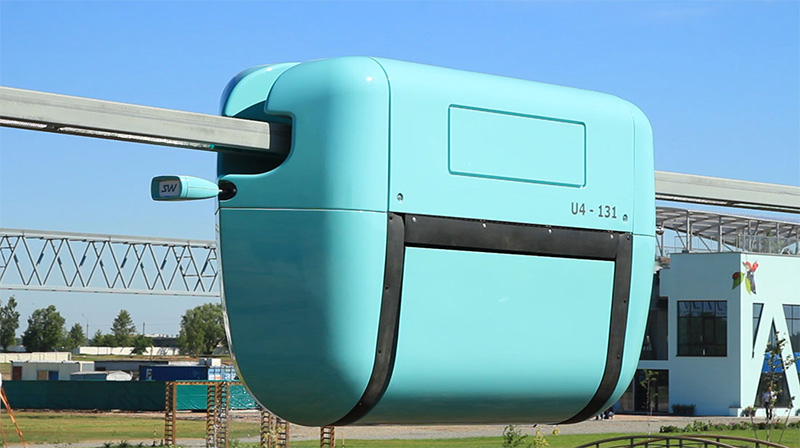 Unitruck
SkyWay cargo unit is a unique, three-piece elevated platform with a belt conveyor. Unitrans is a kind of an endless train: a cargo band on steel wheels moves on a pair of steel rails, which increases the stability and safety of cargo and reduces power loss. This and other non-standard solutions distinguish the SkyWay cargo complex from competitors.
Last year, another new vehicle was presented — the world's largest prototype of a drone — a remotely piloted aerial vehicle capable of carrying 1.5 tons of cargo over several hundred kilometers. The innovation, called Kombo, was designed and built on the basis of Ka-26 helicopter and successfully passed tests. The drone can fly over a distance of 500 km at 170 km/h speed. The model is intended for transporting goods under harsh climatic conditions: in mountains, at river intersections, lakes, swamps, jungles and tundra, in areas of high radiation. It is presently under development.
Mobility for all
SkyWay Technologies Co., a company for the design and production of SkyWay transport systems, presented one more unique project — unparalleled in the world electric car for people with reduced mobility. The innovation is called unimobile. Its design is based on technical solutions that ensure individual mobility and independence of people with disabilities. For the first time, a person can drive a car while sitting in a wheelchair with which he enters directly into the cabin through a special tailgate. Unimobile has an intelligent control system and can be equipped with an electric wheelchair when needed.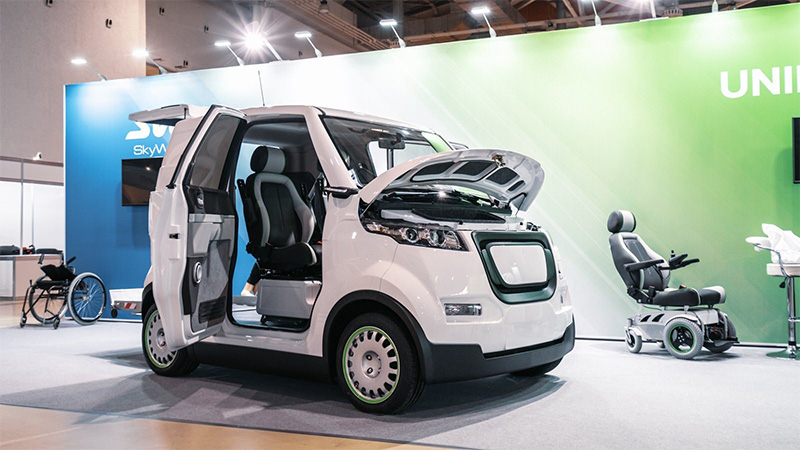 Unimobile
It does not look like modern standard cars adapted for people with disabilities. In its case, both the design and technical specifications were adapted to specific needs of people with disabilities from the very beginning. This 1-ton car can reach speeds up to 100 km/h and pass up to 150 kilometers without a break.
The model meets all safety requirements for vehicles of category M1 and can be used on public roads. The vehicle was developed in part on the basis of the technological solutions used in string transport systems.
SkyWay is acknowledged and deployed in one of the most innovative countries of the world
SkyWay's benefits were evaluated by one of the most innovative countries in the world — the United Arab Emirates (UAE), which included string transportation projects in the transport development strategy. In accordance with this strategy, elevated transport will become part of the autonomous transport network of the new generation, will be indispensable for the arrangement of high-rise links between buildings and deserts. The United Arab Emirates are associated with innovations and progress and are already known as the new Silicon Valley.
SkyWay Innovation Center (SWIC), first tracks and greenhouses are being currently built in the emirate of Sharjah. String transport complexes are adapted to the conditions of tropical climate — 60-degree heat, sandstorms, aggressive sea salts in the air and groundwater.
SkyWay Innovation Center in Sharjah is a research and production cluster that will gradually build all types of SkyWay cargo and passenger transport complexes: suspended and mounted on rails, single and double tracks, with flexible, semi-rigid and rigid route structures, all needed infrastructure, own laboratories, scientific and technological base, certification center. In the future, SWIC should become part of the Sharjah Research, Technology and Innovation Park, which is the gateway to the global transport and digital technology market.
At the first stage, a 400-meter track with a flexible overpass for rails and a tropical rider will be completed. This is the first real transport infrastructure project that is scheduled to be completed early this summer in order to meet the first passengers.
Meanwhile, the Ruler of Dubai has already approved a project proposed by the UAE Roads and Transport Authority (RTA) for the construction of a 15-kilometer SkyWay urban transport route connecting the Dubai International Financial Center with the city center. Skypod (as SkyWay was presented in the UAE) will have 21 stations and will be able to service 8,400 passengers per hour in both directions. This is one of the initiatives of the UAE to meet the needs of Dubai residents in fast and high-quality transportation.
Global goals and high production standards
The author and General designer of this unique technology is Anatoly Yunitskiy — a scientist, inventor, engineer, Director of UN projects, author of over 150 inventions, 200 scientific articles and 20 monographs. The prospects for the survival of the planet and environmental problems tempted the inventor to look for new, efficient, safe and eco-friendly solutions that can provide a new quality of life on Earth.
More than 40 years have passed since the first drawings of industrial vehicles appeared, but the actual design, production and construction work began only four years ago when SkyWay Technologies Co. on string technologies was founded with 15 design Bureaus and its own expanding production facility. Today, almost 800 designers, engineers, programmers and other highly qualified professionals work from scratch, creating everything from vehicles to the most complex elements of infrastructure. In the process of designing and production, the most stringent standards are observed, modern digital design and production platforms, automated production lines and high-quality materials are used. The company uses an integrated digital 3D Experience platform for designing, production and transportation, which allows to modify a project in real time at any stage of its implementation. For example, U-4-430-T3 has already been developed using the 3D Experience software. And for the first time in the world, transport technologies are created and implemented using the blockchain method.
The company is certified in accordance with the requirements of ISO 9001 quality management system standard and ISO 14001 environmental management system standard. In addition, SkyWay Technologies Co. was one of the first to obtain a completely new certificate of ISO 45001-2018 health and safety management system standard.
The company regularly conducts independent financial audits and the results achieved are annually announced at large-scale events at EcoTechnoPark, where thousands of project supporters from dozens of countries around the world gather.
From SkyWay to Sky World
The innovative SkyWay system radically changes the modern person's view on mobility and transport services. This system includes not only transport and logistics, but also transmission of clean energy, information and electronic communications. In essence, this is a new communication network that will unite urban, high-speed and cargo routes with information and power networks in harmony with nature. In addition, there will appear a real opportunity to explore less developed and hard-to-reach regions, such as mountains, jungles, taiga, desert. And this will stimulate development of economy of any country. High-speed transport will connect local urban networks with one large global system. Major high-speed hubs will be located outside the city, and the "last mile" — the distance to the threshold — will be covered with the help of urban modules. The focus is on the introduction of a new economic system and digitization of transport processes, new logistics for international corridors, development of the raw materials industry, other complex projects to optimize transport systems and improve people's living conditions.
SkyWay developer Anatoly Yunitskiy offers to look even farther. He presents Sky World, a program for the development of strict transport systems, which is complemented with unique projects in the fields of organic farming and eco-building construction, biotechnology and linear autonomous cities, clean energy power plants, bridges, intellectual protection and other projects.
Successful implementation of the Sky World project complex will prevent a global environmental disaster, which is bound to occur if the current growth rates of global industry continue. In addition, with the implementation of Sky World, humanity can open up new opportunities for advanced technologies, transport, economy, industry and space.